Eligibility
Nurses working in industries or persons who have the experience in nursing/persons who are qualified as nurses/public health inspectors.
Course Objectives
To learn and perform efficiently, to mitigate workers health issues in industry
To reduce or minimize occupational accidents and diseases
To minimize the health expenditure in industry
Course Contents
Occupational diseases, hazards, control and prevention
Occupational accidents, hazard and prevention
Data collection and analysis and decision making based on the excising information, Communicable and non communicable diseases.
Valid certificate will be issues - Certificate in Occupational Safety & Health Followed a 5 day course in Industrial nursing
Teaching Technique Used
Giving awareness on safety and health and specify the activities to be carried out by an industrial nurse - Using PPT
Participatory approach and interactive sessions - through roll plays
Factory visit
| | | |
| --- | --- | --- |
| Course Duration | : | 5 days |
| Certificate | : | Industrial Nurse |
| Registration Fee | : | Rs. 500/= |
| Course Fee | : | Rs. 15,000/= |
| Venue | : | NIOSH Auditorium |
| Target Group | : | nurses who are working in the industry or nurses who would like to serve as a industrial nurse |
Benefits to the Company / Person
They will be qualified and competent to work in any industry in Sri Lanka
They will be eligible to work as an industrial nurse in any other country
They will be competent to minimize occupational accidents, occupational diseases
They will be able to conduct awareness and training for the workers on OSH
Active member in the safety committee
Effectively communicate with the management and the employees to sort the occupational safety and health related problems
Individual certificate will be a valid document for the compliance audit.
Special Offers
If the number of participants exceeds more than 3 from one industry, the institute will provide a valid document which will be able to provide for compliance audit.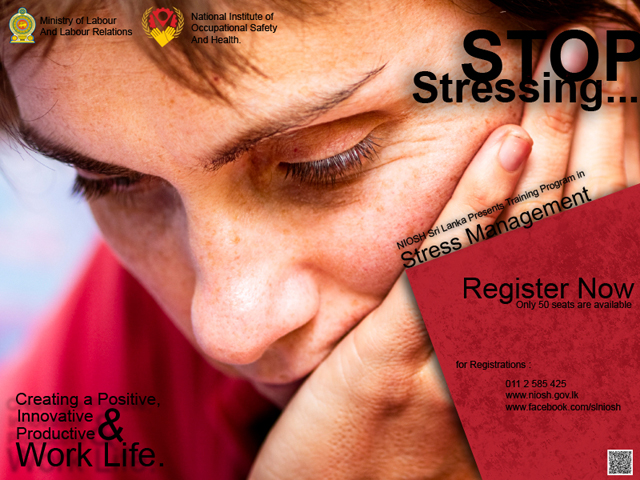 Course Duration
:
1/2 day
Time
:
9am - 1pm
Venue
:
NIOSH Mini Auditorium
Contact:
:
+94 112 585 425
Charith (ext:107)
Mohan (ext:102)
E-mail
:

This email address is being protected from spambots. You need JavaScript enabled to view it.
Only 50 seats are available for bookings. Make your reservations now...